A selection of artwork that is in the show: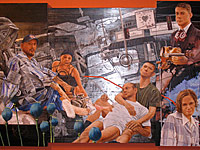 Press and Reviews
The power in their pain
Boston Globe, Boston.com
By Nan Levinson | April 22, 2008
While soldiers have long written about – and against – war, these young men have found their own approach. Vivid, unsettling, and YouTube-anointed, their work is also mostly unpolemical, a surprise, given the charged subject matter.
Hughes and Cameron are documenting their transition from soldiers to resisters. Their intent, they say, is to reimagine the myths, images, and assumptions that brought them and their cohorts to this point; their method is to pose questions, not supply ready-made answers.
"I'm using creative processes to break down the walls that allow us to dehumanize one another," says Hughes.
Talk Nation Radio interview with the curator Jeff Carpenter
An interview with Jeff Carpenter about a traveling multi-media art exhibition called "Experiencing the War in Iraq,". He discusses the selection of various types of art representing the views of soldiers serving in Iraq as well as those who have been discharged from the US Military along with other contemporary artists. 29:39 minutes
Interview with art exhibit organizer Jeff Carpenter on Archive.org
'Experiencing the War' is a diverse group of voices
Providence Journal
01:00 AM EST on Thursday, March 13, 2008 | By Bill Van Siclen
Francesco Levato is executive director of the Poetry Center of Chicago. Wafaa Bilal is an Iraq-born performance artist now living in the United States. John Paul Hornbeck is a U.S. Army veteran who runs a veterans' counseling program in Iowa City, Iowa. Rebecca Heyl is a Boston artist and writer who has worked for the Israeli peace movement. Robert Walters is part of a U.S. Navy squadron currently stationed in Iraq.
If you were expecting "Experiencing the War in Iraq," a month-long series of Iraq-themed talks, performances and exhibits organized by a group of local artist-activists, to feature a predictable chorus of antiwar voices, think again. As the names on the above list suggest, "Experiencing the War in Iraq" is far too diverse – and for that reason, much too important – to dismiss as just another chance to vent about the war in Iraq.
To take just one example: At Machines with Magnets, a new multi-use arts space in Pawtucket, Wakefield artist Russ Smith has recreated the harrowing Fallujah Blues installation he first exhibited two years ago at AS220. Inspired by the 2003 attack on four employees of the American military contractor Blackwater USA, the installation uses bits of charred cloth and rope to represent the men's burned and mutilated bodies.
Yet just a few steps away from Fallujah Blues is its visual and emotional opposite.
Something that will touch everyone
Pawtucket Times
by Donna Kenny Kirwan | Saturday, 08 March 2008
With the war in Iraq is entering its sixth year, it seems to have slipped under the personal radar of many Americans.
With that in mind, a touring, multimedia art exhibition called "Experiencing the War in Iraq" attempts to reconnect those who have secluded themselves from the war's reality, and to promote awareness, understanding and healing.
…Noticing a rising trend of Iraq War veterans posting their art on the Internet, several local artists, forming a group called ReconnectUS.org, decided to present a global, multimedia exhibition on the subject.
According to a press release from ReconnectUS.org, the international flavor of the exhibit expresses the visceral range of emotions that the war evokes from artists, soldiers, veterans and others.
…"The work was selected purely on artists merit from more than 600 entries and includes an array of perspectives that reach beyond politics," said Jeff Carpenter, a coordinator with ReconnectUS.org. "The show's images, sounds and words are offering something that will touch everyone."
Seize Thursday: War in Iraq, in Pawtucket
Providence Journal
March 20, 2008 01:00 AM EDT
Wakefield artist Russ Smith has his Fallujah Blues exhibit about the war in Iraq at Machines with Magnets, the multi-use arts space in Pawtucket. It's part of a month-long series of events and exhibits called "Experiencing the War in Iraq." There are two venues for the exhibits: Machines is at 700 Main St., and the other is the Pawtucket Armory, 172 Exchange St. At the Armory is a display of American flags (one for each soldier killed in Iraq) by Lauri Richardson. Exhibit hours today are 5 to 8 p.m. at the Armory location, and noon to 6 p.m. at Machines.
Rueful Reflections
Taking stock of the war in Iraq
Providence Phoenix
March 12, 2008 1:05:56 PM | By Greg Cook
An open call attracted about 600 international submissions, from which they chose some 40 pieces to exhibit at Machines with Magnets and the Arts Exchange in Pawtucket. Some of the artists are American veterans or Iraqis. The goal, Carpenter says, is "to reconnect the people who have been disenfranchised or who are cocooning from the reality of the war."
"We are desensitized to death," Rosenthal says. "And a lot of these works here bring it back in a way you don't get from the mainstream media. And that's why it's important, because we're talking about the destruction of human lives."
An American flag-draped coffin "crashes" through a gallery wall. A monstrous skeletal figure – assembled from bullets, grenades, and artillery shells – haunts one gallery. There are mild-mannered abstractions and generic photos of American troops patrolling Iraq. A video documents a Providence anti-Iraq war street protest. Milton Stevenson creates a mandala of "Support Our Troops" ribbon auto magnets. A couple of artists pulp veterans' uniforms to turn them into paper.
The art is by turns overwrought and polite; much of it is mixed. But the shows feel scrappy and necessary. They give you space to reflect on the accomplishments and sacrifices of our military: How is the war going? How could it end? Are we safer now? Is Iraq better now? What are the repercussions?
'Experiencing the War in Iraq' through the Arts
Providence Journal
01:00 AM EST on Sunday, March 2, 2008 | By Bill Van Siclen
Ask Jeff Carpenter how he came to be the driving force behind "Experiencing the War in Iraq," an ambitious series of Iraq-related lectures, exhibits and performances opening this week, and he says it all started with a chance meeting between a disillusioned artist (Carpenter himself) and an Iraq War veteran named Liam Madden.
"I'd gone to see this guy [Madden] in Boston and had just been blown away," Carpenter recalls. "He wasn't one of these armchair critics who's against the war but doesn't have any firsthand experience. He'd actually been there and done two or three tours of duty, then turned against the war. He had credibility."
Still, it was something that Madden said near the end of his talk that really grabbed Carpenter's attention.
"Right at the end, someone asked Madden why most of the people in the audience were older folks – you know, baby boomers. And he said that young people don't listen to speeches. To reach them, you need to speak to them in a way that they understand, through things like art and music."
Not another mother's son
Pawtucket Times
Thursday, 20 March 2008
A march and vigil marking the anniversary of the war in Iraq was met with rain Wednesday evening, coating not only the participants, but also several large paintings of tragic scenes of that country that had been set up at the vigil site.