A selection of artwork that is in the show: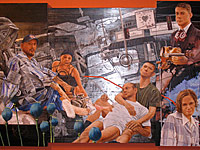 About ReconnectUS.org
ReconnectUS.org is an ad hoc group of artists and presenters who have been separately involved in shows and events across Southern New England for many years. The Pawtucket Armory Association is the non-profit fiscal agent for ReconnectUS.org.
Artist-curators:
Jeff Carpenter
An artist – painting and photography; President of Arts United/Fall River.
Leif Goldberg
An artist working in drawing, printmaking, and film; co-founder of the comics tabloid Paper Rodeo and editor of the Free Radicals anthology.
Raphael Lyon
Filmmaker and sound artist, director of the feature documentary "i" (www.ithefilm.com) and curator of the sound-art label FreeMatterfortheBlind.com.
Erin Rosenthal
An artist and musician working in printmaking, collage, sculpture, film, and performance; recipient of a Fulbright Fellowship for film study in Poland.
Board of Advisors:
Sara Agniel
Lynn Akin
Mairead Byrne
Annette Casparis
Drew Cameron
Linda Gold
Deborah Goldhaft
J Hogue
Steve Kumins
Lowry Marshall
Eli Miller
Pat and Sam Smith
Kirsten Sorensen
Ann Wood
Website design and programming by J Hogue, Highchair Designhaus