A selection of artwork that is in the show: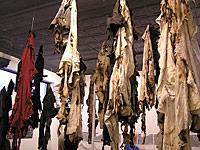 Calendar
Mar 6

6:00 to 8:00pm: Private Viewing for Patrons at Machines With Magnets

Mar 7

6:00 to 9:00pm: Opening night reception at Pawtucket venues, with music performances from 9 to midnight at MWM. Featuring: Black Pus, Baba Yaba, and Riders Against the Storm

Mar 9

3:30 to 5:00pm: Panel Discussion with artists Krista Caballero, Alan Tracy, and Dan Wood. AS220
5:00 to 6:00pm: reading of a short play "Home Cooking" by Mat Arruda. AS220.

Mar 19

5:00 to 7:00pm: Anniversary of start of the War reception with music at MWM & Arts Exchange
7pm candlelight procession to Visitors Center plaza for actions
7:30 in Slater Mill Theatre: performance by Kenny Carnes. WORD! leads off with Phil Kaye, Franny Choi, Sarah Kay & Amina Massey

Mar 20

Trolleys from Providence Gallery Night
The trolley will depart the RISD Museum (South Main Street) for Pawtucket at 6:30 pm

Mar 27

7:00pm: Closing reception with presentation by Scott Ewing in the Slater Mill Theatre. Scott Ewing is a veteran of the War in Iraq who gives an hour long PowerPoint testimonial of his harrowing experience in Tal Afar, near Mosul.

Mar 30

Last day in Pawtucket

Mar 31

9:30 pm: Video screening at Cable Car Cinema

Apr 10

"Experiencing the War in Iraq" installed at the Narrows Center for the Arts in Fall River, Massachusetts with opening reception and performance by Haale.

Apr 28

Until May 2nd our exhibition will have a small satellite in the group exhibition Violence Transformed at the State House in Boston.
http://www.violencetransformed.com/
The artists represented:
Randy Apuzz,Max Krafft, Akela Sciorra-Ortiz, Lucca Sciorra-Ortiz & Joseph Sciorra, Krista Wortendyke
"Experiencing the War in Iraq" artist Linda Bond will be represented in the digital display section with 5 pieces from her 'Casualty' series.
Opening Reception April 28 from 6 to 9pm

Boston State House
Beacon Street at Park Street
in the Doric Hall. Hours daily: 10am to 4pm

May 3

Last day in Fall River
Venues
The following spaces and organizations have been gracious enough to make their space available, in addition to being fantastic places:
Machines with Magnets
Gallery Hours: Noon to 6pm, Thursday through Sunday
400 Main Street, Pawtucket RI
MWM is an audio recording studio in Pawtucket, RI, specializing in using analog equipment. In addition, MWM has renovated their space to include a 2000 sf performance and gallery area, showcasing live music and art on a weekly basis.
Arts Exchange (Pawtucket Armory)
Gallery Hours: 5pm to 8pm, Thursday through Sunday
172 Exchange St, Pawtucket RI
Home to Rhode Island state militia and National Guard troops for 100 years, the historic Pawtucket Armory has been transformed into The Arts Exchange, an exciting new center for the arts and arts education. The Armory's massive Drill Hall has been converted into performing arts space, with support and education spaces installed in the ground floor below, as well as being semi-atatched to the Gamm Theatre' black box space.
AS220
115 Empire St, Providence RI
A non-profit community arts center located in downtown Providence, with 19 artist live/work studios, 4 galleries, a performance space, a community darkroom, a community print shop, The Broad Street Studio, and a recently renovated bar and café.
Blackstone Valley Visitor's Center
175 Main St, Pawtucket RI
The Blackstone Valley Visitor Center, across the street from Slater Mill, has information kiosks, maps, hospitable tourism consultants, a café, and a gallery. It has a top-notch screening room where we will be showing videos.
Cable Car Cinema
204 South Main Street, Providence RI
The Cable Car is a Providence insitution, combining independent cinema and fresh brewed coffee and snacks. It's the theatre with the couches!
Narrows Center for the Arts
16 Anawan Street, Fall River MA Located in Fall River's waterfront district, The Narrows is on the top floor of an attractive old mill building with spectacular views of Fall River's pier, Braga Bridge and Battleship Cove. The Center's wonderfully sunlit space provides superb acoustics, creating the perfect ambiance for music and art.